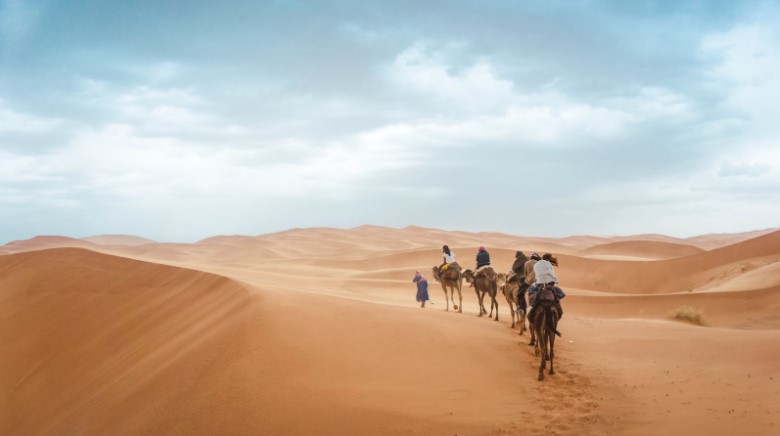 Image Source: Unsplash
Thinking of visiting Morocco? Here are a few things you should add to your itinerary when travelling in Morocco.
Trek Mount Toubkal
Want more adventure from your holiday? Why not climb a mountain?! Mount Toubkal, part of the Atlas Mountains range, is the highest peak in Morocco. 
If you're up for the challenge, then trekking Mount Toubkal is a very rewarding experience, with incredible views over the rest of the Atlas Mountains. 
As far as mountains go, Mount Toubkal is a good choice for those who don't have much mountain climbing experience. There is no technical climbing needed; you only need to be in a good physical condition to make it to the summit. Join a group trek to Mount Toubkal for a safer guided journey. 
Explore Aït Benhaddou
Aït Benhaddou is a fortified village in Morocco that is now a UNESCO World Heritage Site. The village looks as if it is carved into the mountains, making for some fantastic photo opportunities. 
While the fortress was once full of people living in it, only five families remain in Aït Benhaddou today. One of these families runs a cafe here, allowing visitors to sample traditional foods and experience the ancient lifestyle and heritage of the site. 
The village was originally a major stop on the caravan route between Marrakech and the Sahara. Now it is often used as a set for film and TV shows, including Game of Thrones.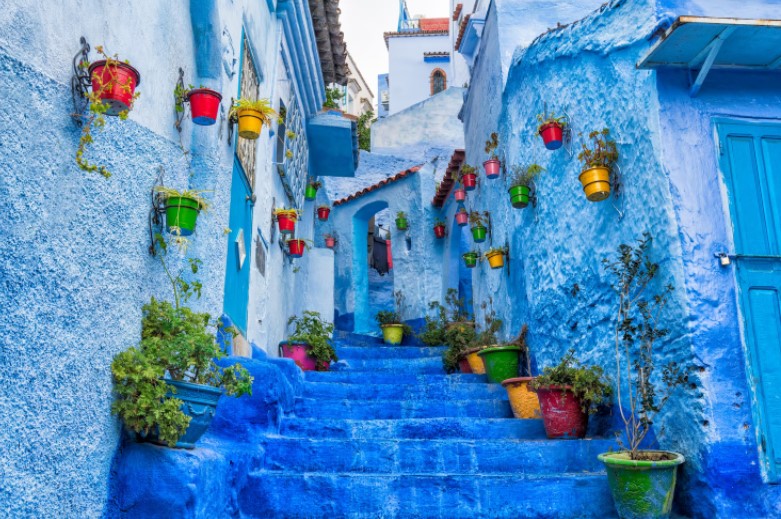 Image Source: Unsplash
Visit Chefchaouen
An iconic Moroccan town, Chefchaouen is renowned for its blue-washed buildings – you'll likely have spotted these before on social media! The quirky streets offer a slightly calmer experience than Marrakech, but there is still plenty to see and do here in this blue town. 
See the Kasbah, a red-walled fortress and dungeon from the 15th century, or pop into the craft workshops of leather makers and weavers that line the cobbled lanes of the town.
Head to the Spanish mosque to get a stunning panoramic view of Chefchaouen, or visit the markets for local foods and goods. 
The town is also a haven for cat lovers, with many furry friends making their home in the blue streets. 
Experience Marrakech
Marrakech (or Marrakesh) is one of the most well-known cities of Morocco, and is frequently featured on travellers' bucket lists. 
Explore the bustling markets and barter for deals on everything from leather goods and pashminas to carpets and pottery. Some people even head here with an empty suitcase to fill with the goodies they find at the markets!
See some of the most beautiful sites in the city, including the Jardin Majorelle, Palacio de Bahia, and El Badi Palace.
Trek the Sahara
One of the biggest draws of Morocco is the ability to explore the desert. The majestic desert terrain stretches on into an endless horizon, with plenty of opportunity for adventure.
Join a group hiking trek of the Sahara for an adrenaline-fuelled experience, or take a more leisurely trip out perched on the back of a camel.
If you fancy camping out, then a night spent under the stars of the unblemished desert sky will be something you'll remember forever.
Related Posts